Intellectual Properties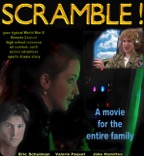 SCRAMBLE!
is a 94 minute live action entertainment feature movie shot on video.
Derived products include
a 230 page original graphic novel of the movie published in PDF,

Cover art for the PDF graphic novel.
We would love to sell rights for a big-budget re-make of the movie. They are available.
In addition to SCRAMBLE! and its source videos from a dozen radio control air shows, C. M. E. Inc. assets include:
three (60 minute) broadcast quality biographical documentaries (PBS style), produced in the mid 1980's;
14 episodes of a 1990's local (Richmond), shopping and trends television series,
an archive of hundred of hours of unreleased source footage from twenty years of production, including NASA-hired educational shows and material from a dozen runway fashion shows.
C. M. E., Inc. also holds tens of thousands of still photography stock images from 18 countries and a dozen U. S. states.
The movie SCRAMBLE! inspired an e-book and launched the genre of Teleflight Fiction.

Five RC flying novellas in one volume.
One of the stories, "Airplane Down," is excerpted online in the
international literary quarterly, Adelaide Magazine
and appears in the magazine's December print edition.
The e-book website
www.dartans.com